Medical Office Receptionist - Hiring Event - YES, We're Hiring!
Company: MCR Health
Location: Sarasota
Posted on: May 3, 2021
Job Description: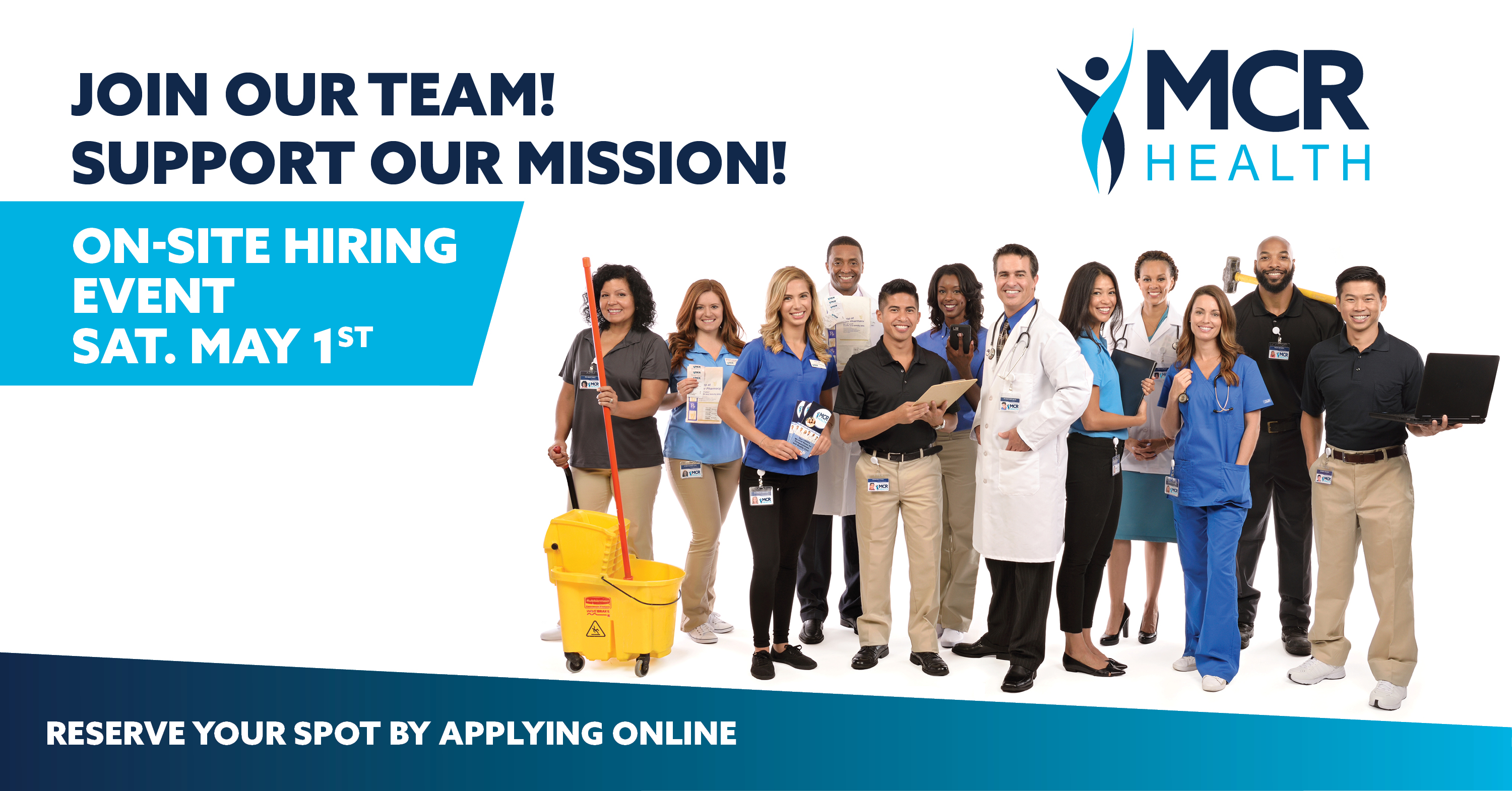 WE'RE HIRING Schedule your Interview NOW!!!
Join us for our On-Site Hiring Event on Saturday, May 1st, from 10am to 3pm!
We'll be making hiring decisions on the spot & offering SIGN-ON BONUSES!
Do you want to work in a friendly, professional, and supportive environment, helping people get to the healthcare services they need, knowing that you've made a difference? Would you like to have a real work/life balance again (no more weekends, holidays, or 3rd shifts) while collecting a sign-on bonus?
If yes - then come join us at MCR Health! We are a growing and dynamic healthcare organization that supports almost 1,000 staff. In addition to amazing health, vision, and dental insurance, our newest team members are offered a generous paid time off package plus 9 company paid holidays in their first year!
Work Locations: Sarasota, FL
Medical Office Receptionists:
Job Duties:

Be the first person who greets our patients with a smile
Check-in our patients for their appointments and schedule any needed follow-up appointments
Answer calls to schedule appointments
Answer questions about our services and hours
Call patients to schedule future and same-day appointments

Requirements:

High School Diploma or GED required
6+ months of customer service experience in a fast-paced environment required (in healthcare a plus)
Ability to effectively interact with customers in stressful situations

Pay:
$15-17/hour with a $500.00 sign-on bonus!!
As an MCR team member, you will also need:
Excellent listening and interpersonal skills with the ability to empathize with your patients
Must be flexible, resourceful, and able to troubleshoot
Must be able to handle multiple tasks simultaneously and set priorities
Pride in the job you do and the image you present to our patients & visitors
A positive can-do attitude
Bilingual (Spanish/English) a plus
**MCR Health is a drug free workplace. All job applicants selected for employment are required to submit to a pre-employment drug test and background check.
Job Posted by ApplicantPro
Keywords: MCR Health, Sarasota , Medical Office Receptionist - Hiring Event - YES, We're Hiring!, Other , Sarasota, Florida
Didn't find what you're looking for? Search again!
Other Other Jobs
Senior Full Stack Developer
Description: p Senior Full Stack Developer - 210000WS /p p Description /p p Grow with the best. Join a smart, creative, and inspired team that works behind the scenes to support operational excellence. As (more...)
Company: Stantec Inc.
Location: Sarasota
Posted on: 05/12/2021

Dispatcher
Description: Busy security company is currently hiring an experienced Dispatcher. The position is full time Monday through Friday from 8:00 a.m. until 4:30 p.m. The company provides full benefits that include medical, (more...)
Company: Thrivas
Location: Sarasota
Posted on: 05/12/2021

Irrigation Technician
Description: Job Description IRRIGATION TECH WILL TRAIN TOP DOLLAR Sarasota and Bradenton Area
Company: Donvos Sprinkler Company
Location: Sarasota
Posted on: 05/12/2021

Housekeeping Supervisor
Description: La Quinta by Wyndham is now seeking a Housekeeping Supervisor to join
Company: Wyndham Hotels & Resorts
Location: Sarasota
Posted on: 05/12/2021

Staffing Clerk / HR Assistant
Description: Staffing Clerk / HR AssistantTake your career to the next level with the national leader in medical staffing services NurseCore is seeking a Staffing Clerk / HR Assistant for our Sarasota location. In (more...)
Company: NurseCore Management Services, LLC
Location: Sarasota
Posted on: 05/12/2021

Manufacturing Assembler - 3rd Shift
Description: Nature and Scope: The Manufacturing Assembler is responsible for the final assembly of integrated packages and individual valve models. Assembler may be tasked with working automated dressing machines (more...)
Company: Sun Hydraulics Corp.
Location: sarasota
Posted on: 05/12/2021

Insurance Customer Service Representative (Part Time)
Description: Established insurance company is currently hiring a Part Time Customer Service Representative. The position is part time Monday through Friday from 9:00 a.m. until 3:00 p.m. There is some
Company: Thrivas
Location: Sarasota
Posted on: 05/12/2021

Retail Coverage Merchandiser - Walmart
Description: OverviewAt Acosta, we work with major consumer brands CPG . Our Retail Coverage Merchandisers represent our customer and clients in retail locations where you shop. We execute product placement through (more...)
Company: Acosta
Location: Sarasota
Posted on: 05/12/2021

LEAD SALES ASSOCIATE-PT in SARASOTA, FL
Description: p Company Overview /p p Dollar General Corporation has been delivering value to shoppers for more than 80 years. Dollar General helps shoppers Save time. Save money. Every day. by offering products (more...)
Company: Dollar General Corporation
Location: Sarasota
Posted on: 05/12/2021

(USA) Food and Consumables Coach (Non-Complex) - W... - SARASOTA - 34236
Description: What you apos ll do at Position Summary...What you apos ll do...Leads and develops teams effectively by teaching, training, and actively listening to associates touring stores and providing feedback (more...)
Company: walmart
Location: SARASOTA
Posted on: 05/12/2021